Aspen
AKC/UKC CND CH Aspen du Peindre au Vif  (Imp US)

Scarlett




Ch Tarraray Enda Vinare (iid)
From this litter we are expecting brilliant conformation and breed type, as well as excellent colour and coats and most of all exceptional temperaments.  Aspen and Scarlett are lovely dogs to live with and we are sure this will be passed onto their puppies.  Orders being taken for show. obedience and pets.
Litter consists of 4 females (3 red 1 grey) and 3 males (2 red 1 grey)
Puppies
Pictures taken at 4 weeks







Pictures taken at 8 weeks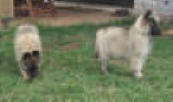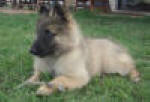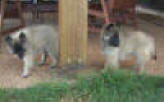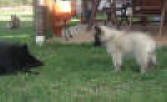 Pedigree
Sire
Ch Iceman dela Grande Lande T

 

Pavot Van de Hoge Laer T

Millo van de Hoge Laer

T
Cartoon du Perigord Vert
Ijes van de Hoge Laër


CAC CACIB

Actee du Bois du Tot T
s.r.Zarka of The Two
CAC CACIB
RE UKCh Tiakie duSart desBois CACCACIB
Astrid du Close du Cher T

Grimm van de Hoge Laer

T
s.r.Zarka of The Two
CAC CACIB
RE CH Beggy of the Two
Marion du Clos du Cher T
Sr Vison du Clos du Cher B.Tr. CAC CACIB
sr Jill du Clos du Cher RCAC CACIB

Dam
CH Roma de Amfravira T

Highlander deCondivicnumT
DayDreem deCondivicnum T
Uhgor du Sart des Bois
Tchalai du Sat des Bois
Brennie du Sart des Bois T
Uhgor du Sart des Bois
Tchalai du art des Bois

Ostanna Del Leon Dorado

Dylan de el Segadal

Grimm van de Hoge Laer (T)

Ara de el Segadal

Naif de el Leon Dorodo

Duncan del Segadal T

Keka de Dona Quina RCAC
NOHR DU PERIGORD VERT (SWEDEN)

Lutin de la Clairiere du Louves

Femto du Bois du Tot

DayDreem deCondvicnumT
TIAKIE du Sart des Bois

Eden de la Clairiere aux

Louves

Altesse de la Clairiere aux Louves

Grimm van de Hoge Laer

Iana du Perigord Vert

Carey du Bois du Tot

Briska du Bois du Tot

Re Tiakie du Sart des Bois
Dorah du Perigord Vert
RE Fr./Lux Ch Ares du Bois du Tôt
RE  Twinie duPérigord Vert

Dam
HEXEN HOUSE AVEN (IMP SWEDEN)

Cartoon du Perigord Vert

Grimm van de Hoge Laer

s.r.Zarka of The Two
CAC CACIB
RE CH Beggy of the Two
Perette du Chemin des Dames
RE Fr/IntCh Louky des Severiers BTr

Vesta dela Fontainedu Buis

Jarah de la Prairie de la Sommerau

Pavot van de Hoge Laer

Millo van de Hoge Laer (T)

Actee du Bois du Tot (T)

Heden dela Clairière auxLouves CAC

R.E. Fr. Ch. Femto du Bois du Tôt CAC CACIB

R.e. Eden de la Clairière aux Louves